Spring time is lamb time!
I got hold of some pretty nice cuts of meat from milk-fed spring lamb.
Being very small, the fat cap isn't as developed as on older ones, but the flavor and the texture of the meat is amazing - very tender and with a subtle lamb flavor.
I deboned the meat, cleaned it a bit and the rubbed it with my marinade.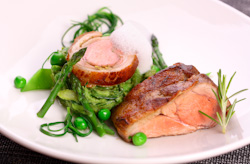 For the marinade:
One big sprig of fresh rosemary
Some other fresh herbs of your choice eg. thyme, oregano, sage
A garlic clove
Lemon peel
5 small anchovies
Black pepper
Olive oil
Mix all the ingredients except lemon peel together in a pestle and mortar or in a blender to a thin paste. Grate the lemon
peel and add it to the paste. Spread the paste over your cuts of lamb and let it rest in the refrigerator for a couple of
hours.
For the spring vegetables I chose asparagus, green peas, agretti and taccole. The last two ones might be hard to find outside of Italy - but can easily be substituted with other green vegetables in season. The four of them are in season roughly at the same time, and together they make a very fresh and light vegetable pairing for the lamb. I blanched them all separately, whole, left them with still a bit of a crunch (al dente) and then quickly drenched them in ice water, making sure to drain them as soon as they cooled off.
I cut the vegetables into smaller pieces and when serving I sauteed them in a pan with some extra vergine olive oil, a knob of butter, some fresh chopped herbs, salt and pepper.
The lamb I fried, first skin side down, and then on all sides, in a skillet. Salted it and put it into a low heat oven until the internal temperature was around 58 degrees celsius (about 140 degrees fahrenheit).
Important now is to let the meat rest for a while. I would leave it for a couple of minutes on the kitchen counter uncovered - then wrap it in aluminum foil and let it rest while I prepared the other things.
To accompany the dish I made a simple froth of pecorino cheese (hard sheep's milk cheese), with warm milk, finely grated cheese and soy lecithin. Start up the stick mixer and go!
Just before serving I would give the lamb a quick heating in the skillet on medium heat (mostly on the skin side) to give it new crispness.