By something or someone, the other day, I was reminded of one time when I was backpacking around in Mexico. 20 years old, fresh out of school, taking the first steps out of known boundaries to explore the world.
Many of the smaller things you forget about the travels - the hard parts and dark moments are especially easy to bury. But there are also moments and things, might even be small ones, that end up as life-changing memories which you keep dear and never forget.
I had learnt spanish (something that REALLY made things easier travelling around a country where few people out of bigger cities or tourist destinations spoke english) and I spoke it well. (Although I spoke the "posh" Spain-version of the language and at times had to stand being laughed at…)
That day I had arrived with the bus to the city of Puebla from Oaxaca - a 5 hour bus ride (not very comfortable but with great views). I found myself a really shitty hotel (perfect backpacker style) and started the exploration of the city. By some tips I picked up along the way, I soon understood where to go that evening to have my tipical Puebla dinner - Mole Poblano. It´s a dark thick sauce made out of innumerable ingredients of which the most prominent ones are dried chili, nuts and seeds, spices and cacao.
It´s said to have been invented by the nuns at the Santa Rosa convent in Puebla for a visiting archbishop.
That same night I arrived at the restaurant I had been recommended. I sat down, and well, didn´t pay much attention to the menu since it was already obvious what I was going to order. Turkey in Mole Poblano - Mole poblano de guajolote. Having heard much about I obviously had set my expectations high.
When I sat there and had my first bit of the dish, something happened.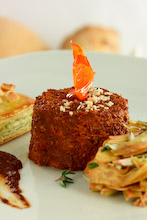 Magic. I was for a moment paralyzed while my mind raced.
This rich, dark, dense sauce full with spices and subtle notes (and CHOCOLATE!), together with tender turkey meat made images flash in my mind…aztecs, spanish conquistadores, nuns, music and dancing, fireworks, mexican tradition, the country´s history…
I´ve had nothing quite like it. I was transported into another space, while time stood still.
When I finished my dish, I felt like I wanted to have another ride on the roller coaster!
For a long time after that evening I couldn´t stop thinking about that wonderful dish and everything that came with it. A food experience I will never forget.


There are of course many recipes for mole poblano, this is just one.
Mole Poblano:
5 dried ancho chilies
4 dried pasilla chilies
2 dried chipotle chilies
200 ml chicken stock
100 g almonds
1 onion, chopped
2 tomatoes, peeled, seeded and chopped
2 cloves of garlic
50 g raisins
30 g pumpkin seeds
4 cloves
10 coriander seeds, crushed
1 little piece of cinnamon
2 tablespoons sesame seeds (reserve 2 teaspoons for serving)
1/2 teaspoon anise seeds
25 g dark chocolate or 1 1/2 tablespoons cacao powder
freshly ground pepper
100 ml vegetable oil
Start with cleaning the chilies by removing stems and seeds and split them in two lengthwise. Heat half of the oil in a heavy frying pan until it shimmers. Fry the chilies until they are crisp, about 10 seconds, turning once - make sure they do not burn. Drain on a piece of paper. Put the chilies in a bowl, cover with hot water, and set aside for 30 minutes. Drain the chilies, reserving the water. Puree the chilies in a blender with enough of the soaking water to make a smooth paste. Heat the remaining oil in a large saucepan and sautee the onions. Then add the almonds, pumpkin seeds and sesame seeds and let them sautee for about 1 minute. Add the spices, the garlic and the raisins. Continue sauteeing while stirring a couple of times. Add the tomatoes. After a couple of minutes on medium heat, transfer the mixture to a blender and grind it finely. Then return it to the pan. Add the pureed chilies, the chocolate and the chicken stock. Let simmer on low heat for about 45 minutes, stirring now and then taking care not to let it burn. The mole should be a very thick sauce, but if it becomes too thick with risk of scorching on the bottom of the pan, add a little more stock or water. Now the mole is ready.
Traditionally served with turkey or chicken, but is lovely also with pork or even beef.
An example of serving with chicken - Take a whole chicken (or one that has been split up in pieces). In a pan with lid, large enough to hold the chicken, sautee chopped onions, one chopped carrot, one chopped stalk of celery, one whole peeled garlic clove, some fresh thyme and a bay leaf. Put the chicken in. Fill up with water or even better chicken stock. Put a couple of pinches of salt in there. Put the lid on, bring to a boil and the turn the heat down to low. Boil the chicken gently for 30 minutes in the covered pan. Then turn off the heat and let the chicken sit in the liquid for another 30 minutes without removing the lid. Remove it from the liquid, cut it up and put the pieces in the saucepan with the mole sauce. Simmer in the sauce for 5-10 minutes. For serving, sprinkle with sesame seeds.