Noma – the Copenhagen restaurant where chef René Redzepi celebrates Nordic produce in an innovative way. In April Noma was named the "World's Best Restaurant" by San Pellegrino's 50 Best Restaurants list for its second consecutive year.
For an introduction to the restaurant, check out my previous post.
After the time I spent working in the kitchen at Noma it would have felt strange to leave without actually experiencing "the other side", assuming the role of guest in the restaurant. This meal was for me the highlight of Copenhagen and a perfect goodbye before taking off. It is incredibly satisfying to be conscious of what is going on behind the scenes and how much hard work goes into the food, while you are munching along in the dining room.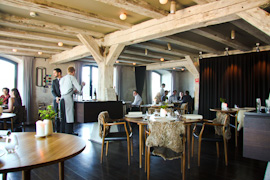 Many restaurants use the words "gastronomic journey" inaccurately to define their menu. Noma is one of the few restaurants I consider to truthfully take you on a gastronomic journey during a meal. A trip through the landscapes of Denmark, hills of Iceland, seas of Färöe Islands, fjords of Norway and forests of Sweden. Here you are served ingredients sourced from the whole Nordic region, but with a certain emphasis on produce from the directly adjacent area. Your chef or waiter will happily give you more information than you can handle on each ingredient, its origin, properties, season and age.

This Danish star restaurant represents a kitchen nature - where chef Redzepi doesn't want to go about altering too much what was given to us by Mother Earth. Instead he creates a cuisine built to express the seasons in this northern region. The truth is that the farther away from the equator you move, the bigger the changes in climate throughout the year, each season thus being more distinct. This fact influences all aspects of life, but most notably, the outcome of all growing things.
Many of the ingredients used at Noma are actually hand-picked Nordic produce, specially chosen for being of absolute top quality. Having a direct relationship with every supplier, without middle-men, votes for the possibility of obtaining nothing but the best.
This very particular food is served in a setting of pure Scandinavian design. The dining room has been carefully furnished and decorated in a way that complements the outside of the house and harmonizes with its location.
One corner of the dining room has been reserved for the glass-walled kitchen where you can see the chefs working.
The dining room at Noma has two very different faces, lunchtime and dinnertime. They're like night and day. No really. Lunch, with its natural daylight entering the large windows making the dining room feel spacious and graceful.
Dinner gives you a more intimate candle-lit experience with the contrast of light and shadows giving you a feeling of being separated from the other diners.
Patrons are mixed, all from young people in jeans and short sleeves to tie-clad businessmen out for a work-related dinner.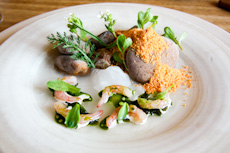 During a Noma meal you will be served a flood of very visually appealing dishes, nonetheless flavor will always be paramount. It might look incredibly complex (and probably did require hours and hours of preparation) but at the end of the day it is just purely delicious food made from prime ingredients. In Noma's dishes you find both terroir and a purity of flavor that remains unparalleled.
Sometimes it is bewitching simplicity that makes the greatest impact. Like a little piece of nature plated and delivered to your table.
Much of Noma's fame derives from sourcing ingredients and material that very few people have tasted, heard of or don't have ready access to.
Bringing in products that are virtually unknown to the public or hard to get - like the dived scallops flown in from Norway - has its price. Many of the ingredients used at Noma cost way more than any normal person would think about paying for food.


A wonderful thing with Noma's dishes is that every element on the plate has equal right of existence, be it vegetable, meat or herb. And every ingredient plays its own important role in building the dish's identity. There are no vegetables hidden under a slab of meat, just to act as support or to give height.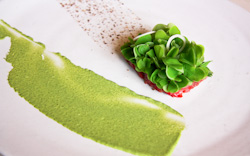 And likewise every ingredient has a purpose, no powders or flowers sprinkled randomly, unrelated to the dish, chosen just based on their color or shape.
Plating is so natural, so free-flowing, so intuitive. It's almost like the ingredients themselves had agreed on how they wanted to be arranged on the plate, and the end result is stunning – simply beautiful.
Special mention must be done for the large choice of freshly made juices that can be paired with the tasting menu, making even the teetotaler feel loved.


One of the most incredible things is how I, after a 4-hour-meal with more dishes than I could count, stand up from my chair and I feel light, light as a bird. No feeling heavy, no bulging stomach. Compared to a pasta-laden Italian tasting menu, this is a sort of revelation. Amazed I walk out of the restaurant, thanking everyone sincerely and utter in a Schwarzeneggerish-way: "I'll be back".