December 1, 2008 - 11:40 pm
Osteria Scaloni a Roma
E da un po che volevo andare - ma non si e presentata la opportunita.
Fino ad oggi (Grazie ENEL, Acea o Sorgenia o qualche altro fornitore di
elettricita che non conosco!)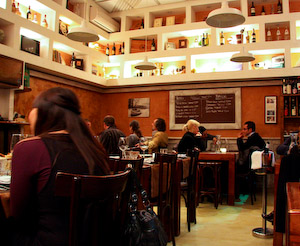 Vabbe, Osteria scaloni (zona Prati) e un posto intimo e carino. Un buon esempio della osteria moderna - l´arredamento scelto con gusto e il stile curato, l´ambiente piacevole e simpatico (anche se a volte al limite di essere rumoroso con il locale pieno). Il profilo grafico mi piace molto, sobrio e rilassato allo stesso tempo. Servizio corretto, discreto e veloce. La cucina gioca fra tradizionale e piu moderno, l´accento sulle specialita di mare ma sempre mediterranea.
Sul menu abbiamo trovato polpo caldo con vinaigrette di cipolla rossa di Tropea, tagliolini con cozze, asparagi (un po fuori stagione forse…) e bottarga, rombo con guazzetto di frutti di mare, filetto di spigola coperto con patate croccante e per finire - tiramisu. (C´e anche carne sul menu!)
Tutto buono, tutto piacevole. Non e proprio un ristorante economico, ma i prezzi sembrano giusti per la qualita.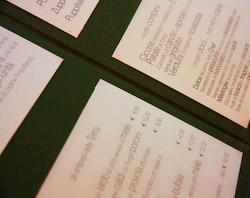 It´s been a while that I´ve wanted to go here - but the opportunity
just hasn´t showed. Until today (Thanks ENEL, Acea or Sorgenia or some other to me unknown electricity company).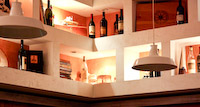 Anyway, Osteria Scaloni (in zona Prati) is an intimate and altogether nice restaurant. A good example of the modern "osteria" - decorated in a stylish way and with taste. The atmosphere is friendly and pleasant (although sometimes the sound level gets a bit high when the place is full). I do like the graphic profile, sober and relaxed at the same time. The service is correct, discrete and fast. The kitchen plays between traditional and modern with an emphasis on seafood and keeping the mediterranean line.
On the menu we found "Octopus espresso" with a vinaigrette of red Tropea onions, fresh pasta with mussels, asparagus (slightly out of season maybe…) and salted roe, turbot with seafood and tomatoes, sea bass covered with crunchy potatoes and to finish off - tiramisu. (There´s also meat dishes on the menu!) Everything was good and enjoyable. It´s not one of the cheapest restaurants in Rome, but for what you get, I find the prices fair.
Osteria Scaloni
Via Carlo Mirabello 8
ROMA
Tel 063721593