November 23, 2008 - 9:13 pm
The sandwiches are made with a type of soft swedish flatbread, "Tunnbröd". It works pretty much like a soft mexican tortilla, put all the good stuff in there, wrap it up and enjoy! This white bread is quite light and on the sweet side. It´s a bit more delicate than a mexican tortilla.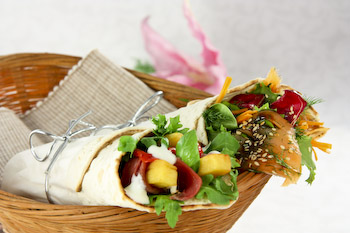 I made two different sandwiches, and both of them received very good reviews!
The one to the left is filled with smoked goose breast (of course smoked duck breast would work just as well), pan fried
panisse
sticks, rucola, basil, roasted red pepper and a sour cream sauce.
The one on the right is filled with marinated salmon (gravlax), dill, toasted sesame seeds, red chicory and 3 types of green salad, carrots and a sweet sauce of date balsamic vinegar.
I panini sono fatti con un tipo di pane sottile morbido svedese, "Tunnbröd". Si puo usare questo pane in una manera simile alle tortillas messicane, riempire con tutte le buone cose, arrotolare - ecco fatto!
Ho fatto due panini, e tutte due sono molto apprezzati!
Il panino alla sinistra e riempito con petto di oca affumicato (ovviamente si puo anche usare petto di anatra affumicato), bastoni di panisse (simile a una farinata di ceci - francese pero!) rosolati in padella, rucola, basilico, peperoni arrosto e panna acida.
Alla destra il panino con salmone marinato (gravlax), aneto, semi di sesamo tostati, radicchio e 3 tipi di insalate verde, carota e una salsa dolce di aceto balsamico di datteri.